I would like some boards on a panel to have different parts assembled while others are not assembled. How should I fill out the order form?
Once you have finished specifying the parameters for the PCB, you can then select the quantity of PCBA.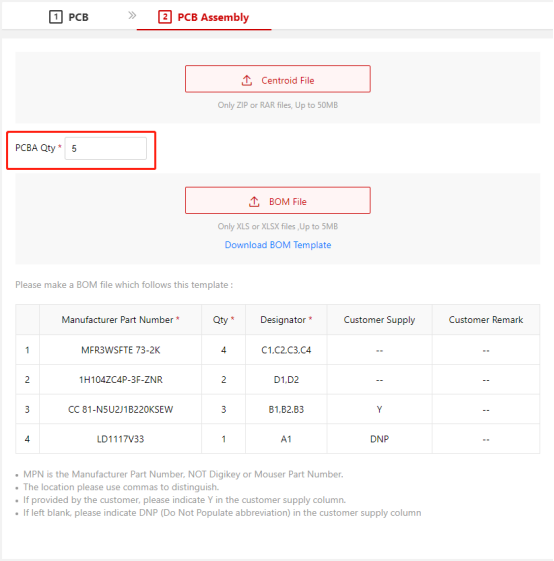 Related Articles

How to place a PCBA order?

Navigate to the NextPCB PCB Assembly order page from the top menu and upload your PCB Gerber files . The platform will try to read data from the Gerber files and extract some parameters from the files including PCB Size, Layer Count, Min. ...

How to export centroid files (XY/pick and place files) for PCB assembly?

Centroid files are also known as pick & place files, XY files, component placement files, SMT files. These are required for HQ NextPCB PCB Assembly orders except if all the parts on the board are through-hole parts. Here we made some gifs to show how ...

How long is the lead time for PCB Assembly (PCBA) orders?

After DFA review has been completed, the lead time for HQ NextPCB PCB assembly (PCBA) orders is around 7 business days if all the parts are from HQ Online and around 20 business days if not. The lead time may be affected by the PCB production time ...

PCB Assembly Files Explanation

For PCB Assembly, 3 files are required at the very least to ensure we can assemble your boards. They are the PCB Gerber files, Bill of Materials (BOM) and centroid data. 1. What is a PCB Gerber file? Gerber is the de-facto standard for representing ...

How to get extra fast PCB Assembly?

HQ NextPCB's turnkey PCB assembly service can produce fully assembled PCBs from 5 working days by sourcing from HQ Online. For turnkey PCB assembly abroad, the slowest part of the production cycle, and the cause of most long waiting times is ...